Welcome to Player's World, the Heart of Vegas Loyalty program, where as one of our most valuable players, you earn big rewards and have the ability to increase them through your purchases and loyalty. In order to provide you with the most relevant Player's World information, we've compiled some of the most frequently asked questions:
How do I enrol in Player's World?
You are automatically enrolled in Player's World as a Heart of Vegas player at Member level status - but you can rise through the ranks quickly!
How do I progress through the Player's World tiers?
Your status may be raised by earning points with every purchase and earn bigger and better rewards as you move up! Your status is revaluated regularly, based on points earned since the prior evaluation.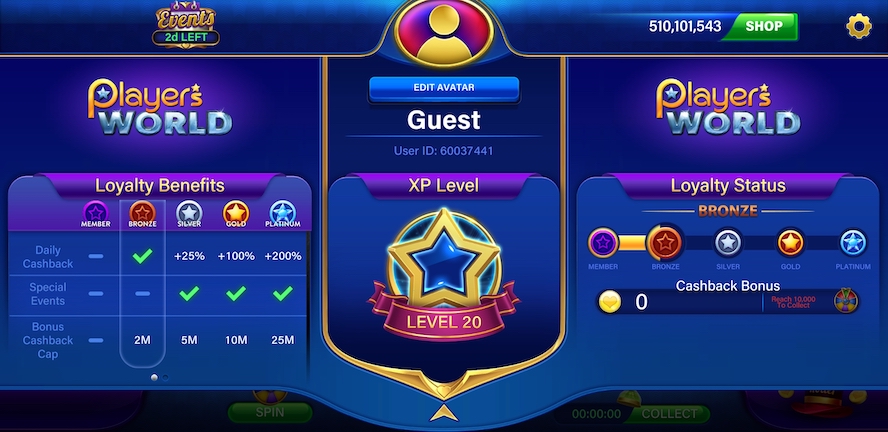 Do my wins count towards retaining or advancing my Player's World tier status?
No. Your Player's World tier status is obtained and advanced solely through your purchase activity, your wins are not a factor to your progress.
What are the Player's World tiers?
The official Player's World tiers are (in order of prestige):
Member

Bronze

Silver

Gold

Platinum
We strive to reward our most engaged players and may extend additional invitations.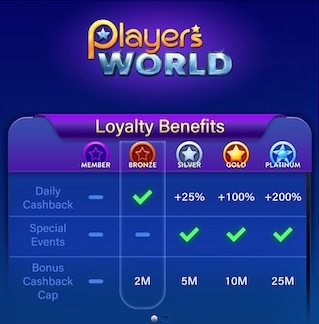 What is the Cashback bonus?
The Cashback bonus is a feature to reward our engaged players in tiers Bronze and higher. Your Cashback is based on your loyalty tier and your spins since your last collection. The higher your Player's World tier and the more you spin, the greater your bonus! You claim your Cashback daily each day with your Daily Wheel spin.
Where can I see my current status and Cashback bonus?
You can check your current status and your standing towards your next Cashback bonus collection by going to your Profile menu at the top bar of the game by tapping the avatar icon
Why am I receiving a 'Not Yet Achieved' message when I try to collect my Cashback bonus?
If you do not yet reach the minimum value (10,000) you will see the 'not yet achieved' messaging. Your values will then roll over to the following day until you reach 10, 000. Please note: You can collect the Cashback bonus only after the daily wheel has been spun - so for example, if you spin the daily wheel and see you haven't achieved the Cashback yet you can potentially achieve it only the following day.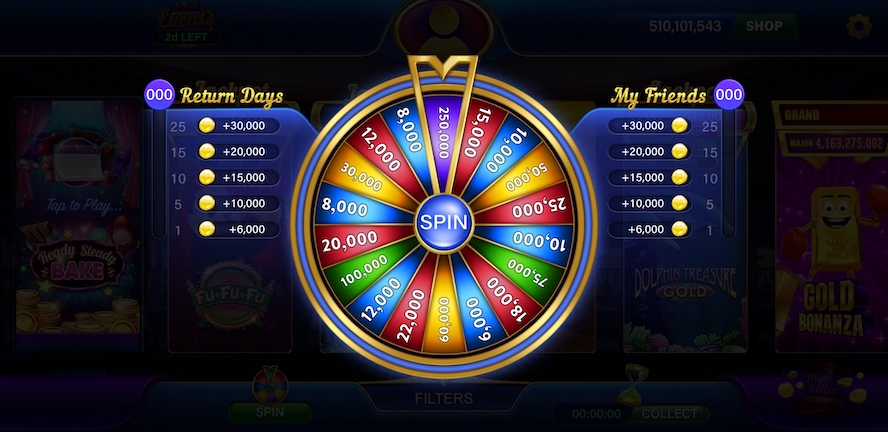 How is my daily Cashback bonus calculated?
Your Cashback bonus is calculated on your Player's World tier and your spin activity from the previous day. The more coins you bet today, the more you can collect

tomorrow

.
My tier status changed. What happened?
Player's World tier statuses now reward our most engaged players and revaluation takes place at quarterly intervals. You can check your status within your current tier and progress to your next tier on your Loyalty Status Page.